2021, what a year!
Tom Perry Realty Executives Brio  –  January 2022
All data from Northwest Multiple Listing Service.
We will remember 2021 for the continued effect of the covid virus, shortage of goods in the stores because of shipping and transportation issues, the highest inflation numbers in many years, automotive shortage because of computer chip supplies, the incredibly strong stock market, and of course the seemingly out of control real estate market.
The Northwest Multiple Listing Service (NWMLS) covers 26 of the 39 counties in Washington state. At years end there was an increase of 12% in SOLD properties and a price increase of 17% year on year.
In King County the single-family price change was under 10% for the same time frame and the median prices there rose from $740,000 to $810,000.  The county's closed sales volume was down 16.3%
Here on the eastside, the SOLD volume was up 18% and prices rose an incredible 39% year on year. This number is skewed by the fact that homes priced over 2 million dollars was up 200% and 80% of our market is now over $1M dollars.
We have been seeing a movement to more rural communities in the state and an exodus to Montana, Idaho, Arizona, and Florida. The majority of the buyers in the area seem to be from the influx of high salaried tech industry. The other group that has filtered into the Seattle market are investment groups that see our area as a good long-term investment.
Experts are projecting single family home prices to increase by around 8% in King and Snohomish counties, and by almost 11% in Pierce County. As these projections were similar last year, we will just have to wait and see!
OK, below you will see the 4th quarter report for the eastside. I use Bellevue, Redmond, Kirkland, and Issaquah for this report. It is also only resale single family homes.
2021 4th Quarter Report:
80% of the SOLD properties were over 1M and 18% were over 2M.
The median SOLD price was nearly 20% over the seller's list price.
We currently have a median 3 days of available homes currently listed.
81% of the listed homes are under contract in the first week.
The median SOLD price increased to $1,460,000, up 7% from Last month.
The median SOLD price was up nearly 17% from Q1 this year.
The volume of homes SOLD between 700 and 1m was down 48% YOY.
The volume of homes SOLD priced over 2M was up more than 200% YOY.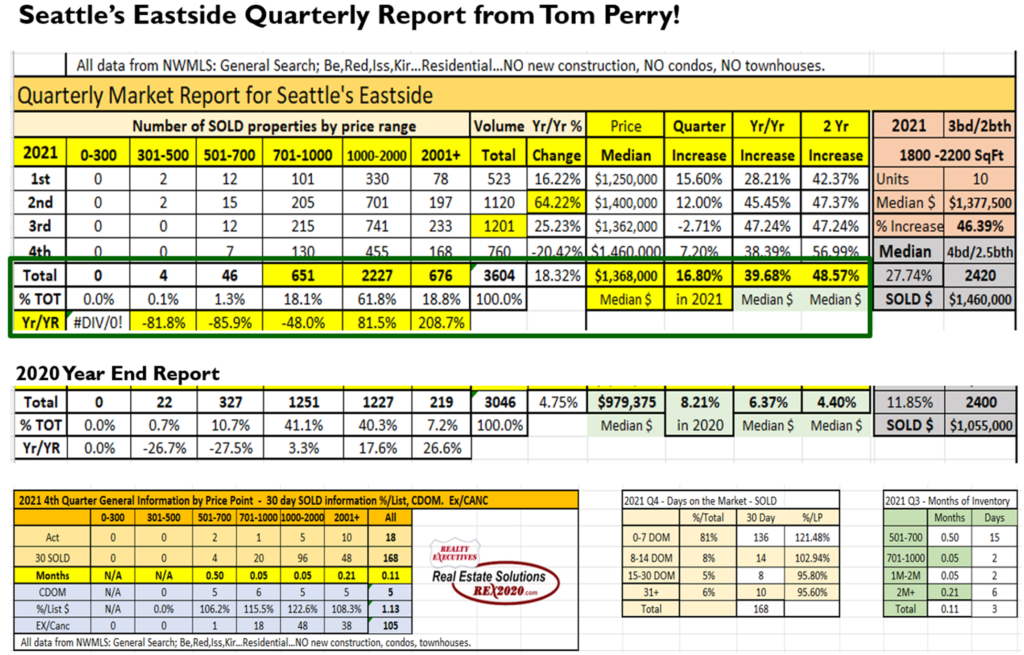 Tom Perry: Since 1987, his focus has been to learn enough to be a great agent for all of his clients. He loves what he does as you will see should you decide to work with him. The knowledge and negotiation skills he have learned from being on all sides of hundreds of transactions is certainly a benefit to his clients.
Keeping up with the swift technology changes, current legal issues and local trends in the market is a necessary daily task for him that gives his clients the upper hand when it's time to sell or buy real estate. Tom also teaches insights from his vast experience and study to new and experienced brokers on customer service, an overview of the contracts and negotiation skills.