I have gone through the data and kept the Eastside Quarterly Report since 2012. I find that numbers tell a story that quite often we don't see. In 2022 I had to change the fields to keep the report relevant because of the increase in home prices.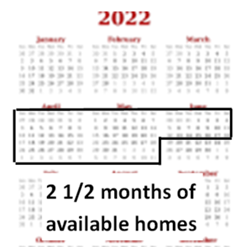 Months of inventory: This number tells us how active the buyer market is. It is affected by the number of available homes priced and presented well, and the number of active buyers. For instance, we have 100 homes on the market and 40 have SOLD in the past 30 days. This means that we have 2.5 months of available inventory.
Further explanation: if no new listings come on the market in the next 2.5 months, we would have no homes to sell.
Days on the Market: This number tells us about the urgency of buyers and seller to get their homes SOLD.
A simple explanation of the data shown in the above charts:
The First Quarter shows, but not seen in the chart, .82 months of available inventory and a median of 5 days for a home to be under contract.
The Fourth Quarter data shows 2 months, twice the available compared to the 1st quarter. It also shows us 69 days on the market to get under contract. That is 14 times longer to get a home SOLD.
Whether you are a Seller or a Buyer, you should fully understand the reasoning and effect of the following… 
The homes that are prepared and presented well and priced accordingly, will always sell first and for more money. The longer a home is on the market, typically it will sell for less.
All data from NWMLS searches and compiled by Tom Perry – Realty Executives Brio.
Be, Red, Iss, Kir  –  Residential-No New const-No condo-No townhouses
2022  –  The Year In Review
Check REX2020.com for more blog posts and information about the market and strategies for sellers and buyers. This information is valuable and timely for today's real estate market. Let me know if you have been thinking about a move … its always best to plan ahead. 
While on my website, you can see my step-by-step processes for Sellers and Buyers. Both are based on the current market and proven by my years of experience. You can also See a few testimonials from past clients. Contact me directly to schedule time to meet with me to discuss your needs and expectations. Whether it's time to buy now or in the future, you will receive options that will help you to put a plan of action in place.  Contact Tom Directly
Not all agents are REALTORS®. We are held to a higher standard. Beyond the education, we are held accountable to the Code of Ethics.  Always ask, are you a REALTOR®?