The third quarter numbers for Seattle's Eastside tell us that the number of SOLD properties is down more than 40% and the prices have settled about 15%. Don't get too sad. The prices are still up about 50% over 2020. What does all of this mean?
The psychological effect of the past recent years with very low inventory and high demand has given sellers the expectation that their home will sell for a bazillion dollars in 10 minutes. Sellers must be honest with their listing price. A listing price must reflect the market and the seller's preparation. Overpriced listings are sitting on the market and when they do sell, they are typically generating lower prices. So, sellers must price aggressively from the start to come out ahead. Only 43% of sellers on the eastside took that advise and they got their asking price in the first week.
On the other side of the coin are the buyers looking for a deal, that elusive bargain. I find that most buyers base their "bargain price offer" on the list price of the property. This is a mistake. The sellers dream price means about as much as the buyers wish price, nothing! Unfortunately, a buyer's low offer quite often will get no reply from the seller. That's awkward for the broker and the buyer. Now if the buyer still wants that property, they have to counter their own offer. I have another trick for buyers if you're interested.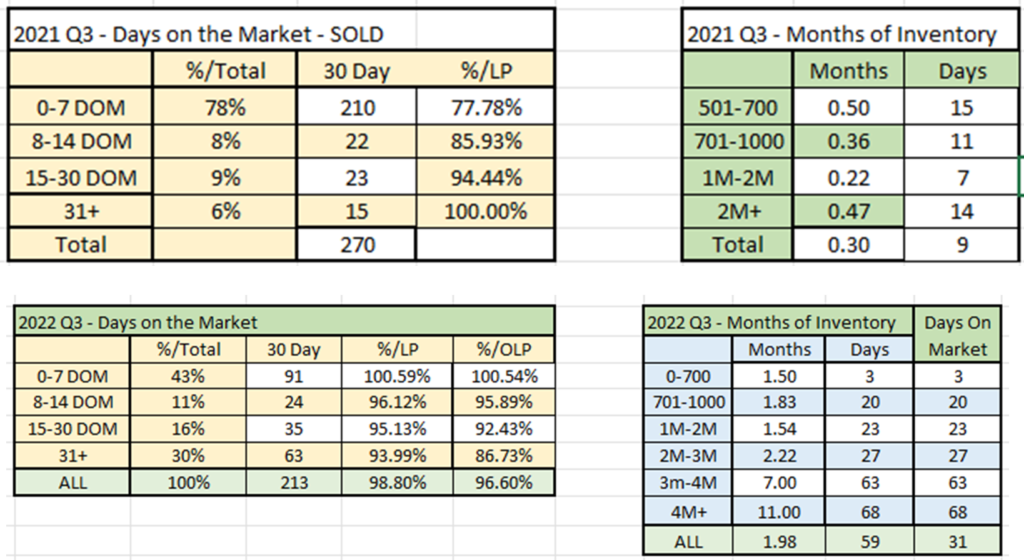 In just 1 year we have gone from 9 days of market inventory to 2 months. Also, because of the previous lack of inventory, in Q3-2021 86% of the homes were SOLD on the first 2 weeks. In Q3-2022 that number has gone down to 54% SOLD in the first 2 weeks. These homes are the properties that are aggressively prices and keenly positioned based on their preparation and condition. Remember those bargain hunters? They need to be looking for the wounded gazelle.  number of homes SOLD after 31 days on the market has increased 80%. When that number reaches 60 days plus, these are the properties that might see a significant reduction in price.
We are still far from a balanced market of 4 to 6 months of inventory. But this kind of market takes an experienced broker that has been there before. That is only part of the winning formula. The client, buyer, or seller must trust the suggestions and guidance of the broker. If you're not feeling the trust, find the broker you can trust. Brokers are not always right but their experience is worth tapping into.
Check REX2020.com for more blog posts and information about the market and strategies for sellers and buyers. This information is valuable and timely for today's real estate market.
While on my website, you can see my step-by-step processes for Sellers and Buyers. Both are based on the current market and proven by my years of experience. Whether it's time to buy now or in the future, you will receive options that will help you to put a plan of action in place.  Contact Tom Directly
Not all agents are REALTORS®. We are held to a higher standard. Beyond the education, we are held accountable to the Code of Ethics.  Always ask, "Are you a REALTOR®?"