Attention Serious Home Sellers
Here is a proven step by step process that guarantees
"Top Dollar" from the sale of your home.
Worried about Price, Time, and Effort to get your home SOLD for Top Dollar.
Worried about leaving money on the table?
Not sure what you really need to do the Sell for the most money?
Sellers do have reason to worry.
I've been a full time REALTOR® for over 30 years. I've seen the boom times of 1989, 2000 and 2005 and how the real estate market was affected. During these boom times, it seemed easy for sellers to fall for gimmicks, shortcuts and promises, said to be an easy way to get the most money from their sale.
That self serving practice seems to be on steroids today.
Radio, TV, and Facebook, and Google Ads popping up all over the internet are telling you to take the easy way out. These ads are promising that with less preparation and lower fees, they can get the same results or better. After the fact, sellers have to believe that was all they could get, but was it?
Really, does that even make sense?
I learned long before my career in real estate that it's all about the right guidance and the effort I invest that brings success. My background before real estate was that of an athlete through high school, and during and after college. Later, when an opportunity opened to coach young athletes, I grabbed the opportunity to share my life skills, knowledge, and expertise. Not long after, I was fortunate to be offered the position of creating and delivering promotions and marketing for a mid-sized sporting goods company.
It is utilizing these experiences of dedication, observation and performance that have given the path of success to my sellers and the agents I have trained. If sellers and I, see an issue, we find a solution, implement, and adjust as needed for the ultimate outcome.
From day one I wanted to focus on listing properties and helping sellers net top dollar. I studied, tips from the national trainers of the day, and interviewed local listing agents. From that, I put together a system based on preparation, presentation, and negotiation.
My "Net Top Dollar" system morphs as technology, culture, and the market changes. However, the basics remain the same. My sellers and I continue to find this to be a winning combination.
With my help, and following the "Net Top Dollar" System,
you will know without a doubt that you did all you could to generate 
Top Dollar from the sale of your home.
Finally, I am releasing my "Net Top Dollar" system directly to Sellers through my website. You will see the majority of the current marketing system, the process and timing for listing your home and knowing that you will in fact get the best offers.
I'm here to help with decisions and guide you through the process.
I know that without the coaches and teammates I had by my side, I wouldn't have accomplished what I have in life. This is more than a job for me. Guiding Sellers through this sometimes complicated process of selling a home for "Top Dollar" is my way of giving back.
See for yourself how you can qualify for my Secret Seller Discount which is offered ONLY to those sellers that qualify!

As a BONUS, I also offer a triple guarantee!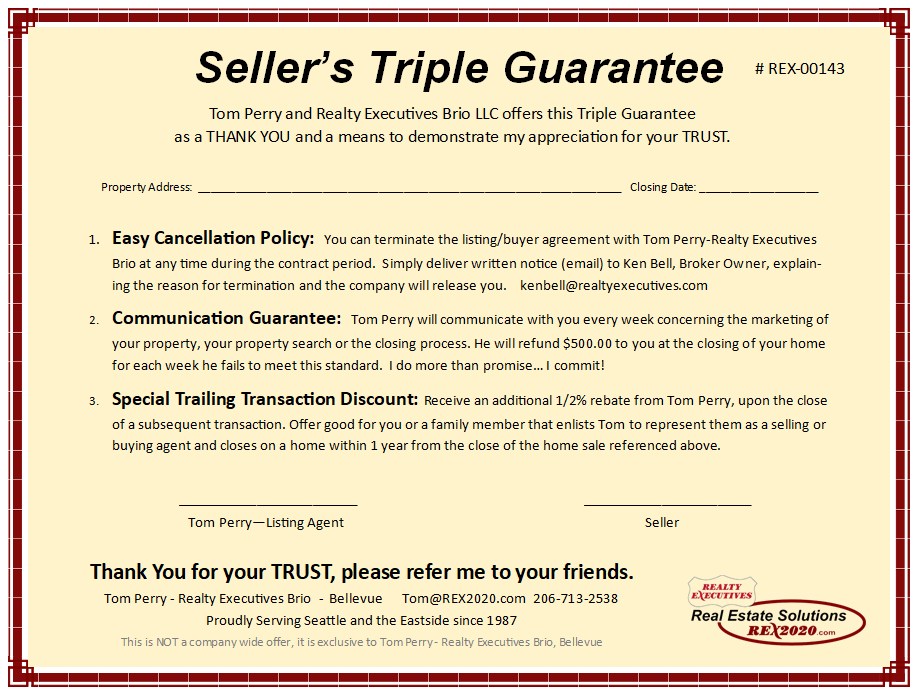 Net Top Dollar   –   Variable Commission Plan   –   Triple Guarantee