The Bellevue – Redmond- Issaquah – Kirkland Real Estate Markets are on FIRE!
Here we are at the end of the first quarter of 2022 and what a year it is! With all that is going on in the world and here in the USA, I hope you have taken the time to sit and reflect on all the families that have lost loved ones. With Covid, Ukraine, homelessness, and unleashed violence in cities across the country, there must be answers.  Be smart, be safe, be respectful to others.
Seattle's eastside the real estate market is still booming. The local tech industry is making its mark. With high salaries and signing bonuses, engineers and programmers seem to be driving this market like a computer game.

Even though the overall number of homes SOLD went down 10%, the sales over 2M increased 116% to 169 units in the quarter.
The median prices went up 17% over the 4th quarter last year. That means the median 4bd/2.5bth/2400SqFt home SOLD for $1,715,000 … Unbelievable!
Let me show you the 30-day report for the eastside. Obviously, we still have limited inventory of homes to sell and plenty of buyers. This is demonstrated by the number of multiple offers sellers are receiving.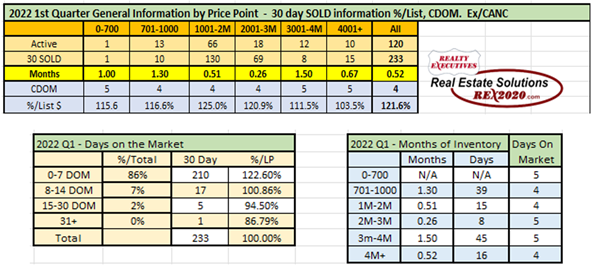 86% of the homes SOLD in the first 7 days for a median of 22% over the listing price.
Feel free to contact me with any questions you might have about the value of your home or strategies on purchasing a home and selling the one you currently own.
Check REX2020.com for more blog posts and information about the market and strategies for sellers and buyers. This information is valuable and timely for today's real estate market. Let me know if you have been thinking about a move … its always best to plan ahead. 
While on my website, you can see my step-by-step processes for Sellers and Buyers. Both are based on the current market and proven by my years of experience. You can also See a few testimonials from past clients. Contact me directly to schedule time to meet with me to discuss your needs and expectations. Whether it's time to buy now or in the future, you will receive options that will help you to put a plan of action in place.  Contact Me Directly
Not all agents are REALTORS®. We are held to a higher standard. Beyond the education, we are held accountable to the Code of Ethics.  Always ask, are you a REALTOR®?