I want sellers want to keep as much money 
as they can when they sell a home.
By qualifying for my Full Service "Variable Commission Plan",
You will earn "Top Dollar" from your sale and retain a portion of my standard listing commission.
It's Funny.
I'm paying you to earn more money!
All you have to do to qualify, is follow my Net Top Dollar system.
Prepare your home to give buyers an A-Plus presentation.
Price your home at perceived market value. 
Be reasonable as we prepare for and 
negotiate any offers.
What you get … 
My FULL SERVICE Listing Process and a REDUCED LISTING FEE
4% total commissions paid for both the listing and buyer agent commissions.
A savings of $14,000 on a $700,000 SOLD property.
4.5% for properties priced under $700,000
My "Variable Commission Plan" also includes:
A COUPLE ADDITIONAL OFFERS
Seller brings the buyer – reduced commission.
Tom brings the buyer – reduced commission.
Some restrictions may apply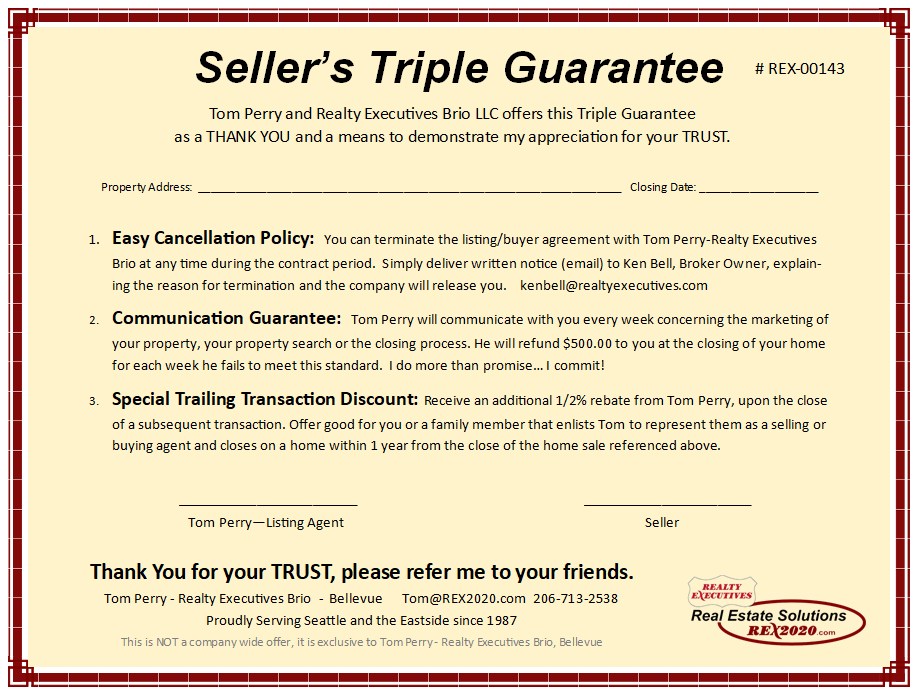 You also receive my 
Seller's Triple Guarantee
* Easy out agreement  –  Cancel at any time.
*$500 commission reduction if a week goes by without reaching out to you.
*A 1/2% rebate on a future sell or buy 
that closes with me.
Some restrictions may apply
Being part of hundreds of seller transaction over the years, I do realize that no two properties or situations are the same. There isn't a single path to generate the most money in my clients pocket from the sale of a home. Therefore, we may look at fixer properties, estate sales and unique properties in different light. Then there are the unique sellers that just want to get rid of a property. We have investors that will look at those properties as well.
Tom Perry's "Variable Commission Plan" is approved by Realty Executives Brio LLC but is not a company policy.
Example of commission discount is based on Tom Perry's standard listing fee of 6% and is not based on any other agent's or a perceived industry standard.
Now is the time to start planning  –  Let's get together!