When is the best time to get my home SOLD for the most money?
We are now 2 months into the new year. It's time for the February 2023 market update. Sellers seem to be hesitating to put their homes on the market and buyers are still anxious so find their next home. These two contradictory actions are continuing the effects of a seller's market. For the time being this climate might be great for sellers, but how long will it last? A soon as seller's read this blog post they will be calling their broker to see how they stand financially and strategically. Is this a good time to sell?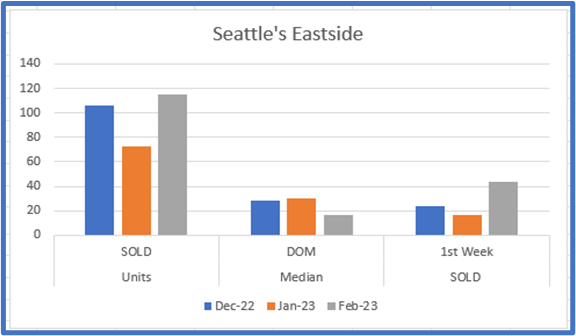 Typically, as if there is anything typical in today's real estate market, we see the number of properties on the market grow as we get into March. This increases the competition among sellers to get the buyer's attention. Preparation and list price strategies become very important. Only the best prepared homes that are priced right sell first and for the most money.
In most years we see the greatest increase in SOLD price during the second quarter. Then the prices trail downward in small percentages. This answers the biggest question on every seller's mind. "When is the best time to get my home SOLD for the most money?" NOW!
As you can see in the above chart; The number of homes SOLD has started to increase. The median number of days on the market to get an offer accepted is down from 30 days in January to 17 last month. And the number of homes SOLD on the first week has started its climb as well.
The chart to the right shows us that prices are certainly not going down, On the contrary, prices seem to have already started the 2nd quarter climb.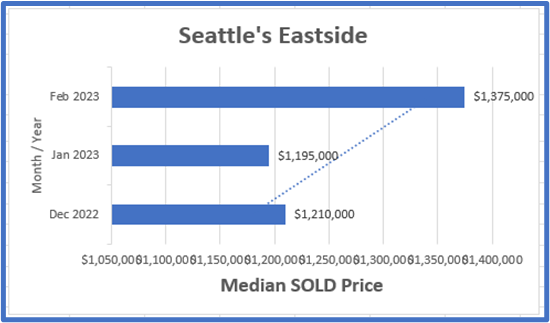 Be careful looking at SOLD prices, days on the market, and Dollar per Square Foot. Every area, neighborhood and price point is different. You need follow the guidance of an experienced REALTOR®. This isn't the time think you are saving money hiring the services of a discount broker. This is the time to hire an experienced broker with a solid pro-active system to generate the greatest exposure and the negotiation skills to generate the highest price.
Ask your REALTOR® to show and explain the how the current market trends affect your pre-list preparations and strategic list price. Then, let them demonstrate their negotiation strategies and how they recommend getting the most exposure for your home and the highest price.
Leave a comment below if you have been thinking about a move and have any questions …
Check REX2020.com for more blog posts and information about the market and strategies for sellers and buyers. This information is valuable and timely for today's real estate market.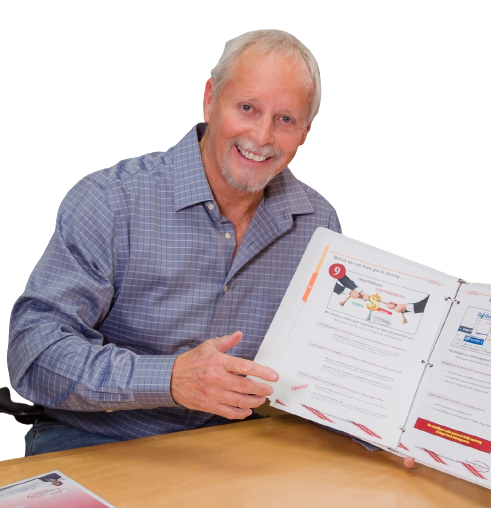 While on my website, you can see my step-by-step processes for Sellers and Buyers. Both are based on the current market and proven by my years of experience. Whether it's time to buy now or in the future, you will receive options that will help you to put a plan of action in place.  Contact Tom Directly
Not all agents are REALTORS®. We are held to a higher standard. Beyond the education, we are held accountable to the Code of Ethics.  Always ask, "Are you a REALTOR®?"